Deleting your profile can be done when using Mango Languages in a browser (not available in the mobile app). You can delete your profile by following these steps:
Click on "Edit Your Profile" in the upper right hand corner of the learning pathway, or click HERE.
With "My Profile" selected on the left hand side of the screen, beneath where it says "confirm password", click "Delete Mango Profile".
In the box that appears, click the red "Delete Profile" button.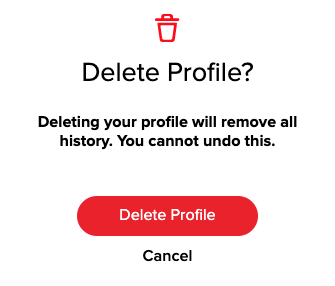 If you are unable to delete your profile, please email our support team at support@mangolanguages.com or call us at 1-877-626-4611 and let us know which email address that you used to register with Mango.
If you have any suggestions or feedback, we would also love to hear how we can improve.