Some iOS (iPhone/iPad) users have been experiencing a subscription error when trying to subscribe to Mango through our iOS app: "Create Subscription Error - Cannot connect to iTunes Store"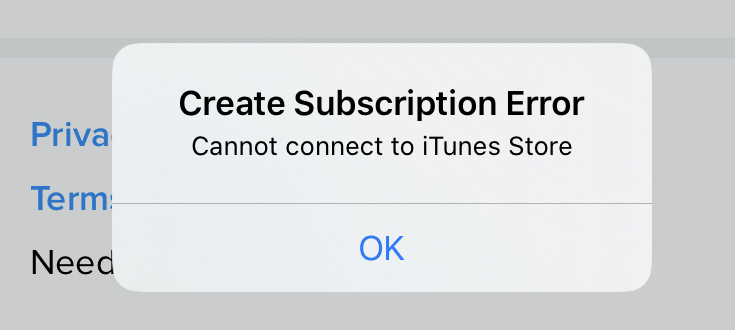 If you are experiencing this error for the first time:
Check everything listed in this Apple Help Center article.
Make sure your device has a strong internet connection.
Wait an hour or so before trying again.
If the above does not work, please try the following:
Go to Settings -> Screen Time -> Content & Privacy Restrictions.
Enable it and then disable it.
If it is already enabled, then make sure to set iTunes & App Store Purchases to Allow, to make sure the user is not blocked from buying In-app Purchases
If the steps listed above do not fix the error, try completely disabling the Content & Privacy Restrictions.
Please contact support@mangolanguages.com with the following information if you continue to be unable to subscribe:
What kind of iOS device you're using.
What iOS version it is running (don't know how to find this information? Click here for help.).
How long the error has been occurring (days, hours, weeks, etc).
What steps you've taken to try to fix the error.